Nurturing value and talent:cmercury Digital Marketing workshop
Happy to share with you the success story of
cmercury digital marketing workshop

that was held recently!

cmercury, one of the notable players in the Digital Marketing industry, focuses on delivering quality and encourages learning and collaboration to bring up the best talents in the industry.

Much to our excitement, we had a fair number of participants from various reputed business schools such as Toc H and Berchman's Institute of Management Studies. Also,  we had attendees from the industry, from companies including  Zen Technologies and Meal'D.

The attendees were really enthusiastic and high-spirited which helped make our time together both productive and fun.

Thanks to all the attendees and the college authorities for their active support in contributing to the success of the event.

Kudos to the team for their effort in delivering top-notch training on digital marketing, packed with thought-provoking ideas and real-life case studies!
A few words about our master trainers:
Jacob M George – A subject matter expert and thought leader in email marketing, Jacob has played a pivotal role in setting up the email marketing channel for brands like Taj Hotels, IndiaMart, Snapdeal, Shopclues.com and more. He has scaled cmercury (an IIMK-incubated venture) into a 250-lakh venture in a time span of 30 months.
Rijo Sam – With 16+ plus years of customer handling experience across verticals, Rijo is a sought after trainer with a record of digital marketing workshops attended by 1000+.
Denny S Dhar – Denny has more than 13 years of experience with Infosys, EY & Accenture. He holds a Master's Degree in Marketing from the Australian Graduate School of Management.
Here's a quick overview of our sessions:
The digital marketing workshop was structured into 5 main sessions:
1. Fun Icebreaker
Jacob kicked off the training with a fun test on digital marketing vocabulary. This one was a good warm-up for the latter part of the program.
2.  Smart Email Marketing
The concept of 'Email as a marketing tool' is an indispensable area in digital marketing. Rijo aroused the participants' interest with a mind-blowing session on Email Marketing concepts with lots of examples and case studies.
3.  Marketing Automation: Future trends
Yet another excellent session by Jacob. He walked the audience through the fascinating concepts of marketing automation with a sneak peek into machine learning and engaged them with several brand case studies.
4.  The magic of Predictive Intelligent Emails
Isn't that easy and amazing if you get online product recommendations matching to your taste? That's the main aim of Predictive Intelligent Emails(PIE). With exciting demos and examples, this interactive session on PIE by Rijo was very enlightening.
 5. Digital Marketing: An Ocean of Opportunities
The final session was by Denny about the scope and career opportunities in Digital Marketing. We are sure that the students found it informative and worthwhile.
Here's sharing some fantastic pictures taken during the event!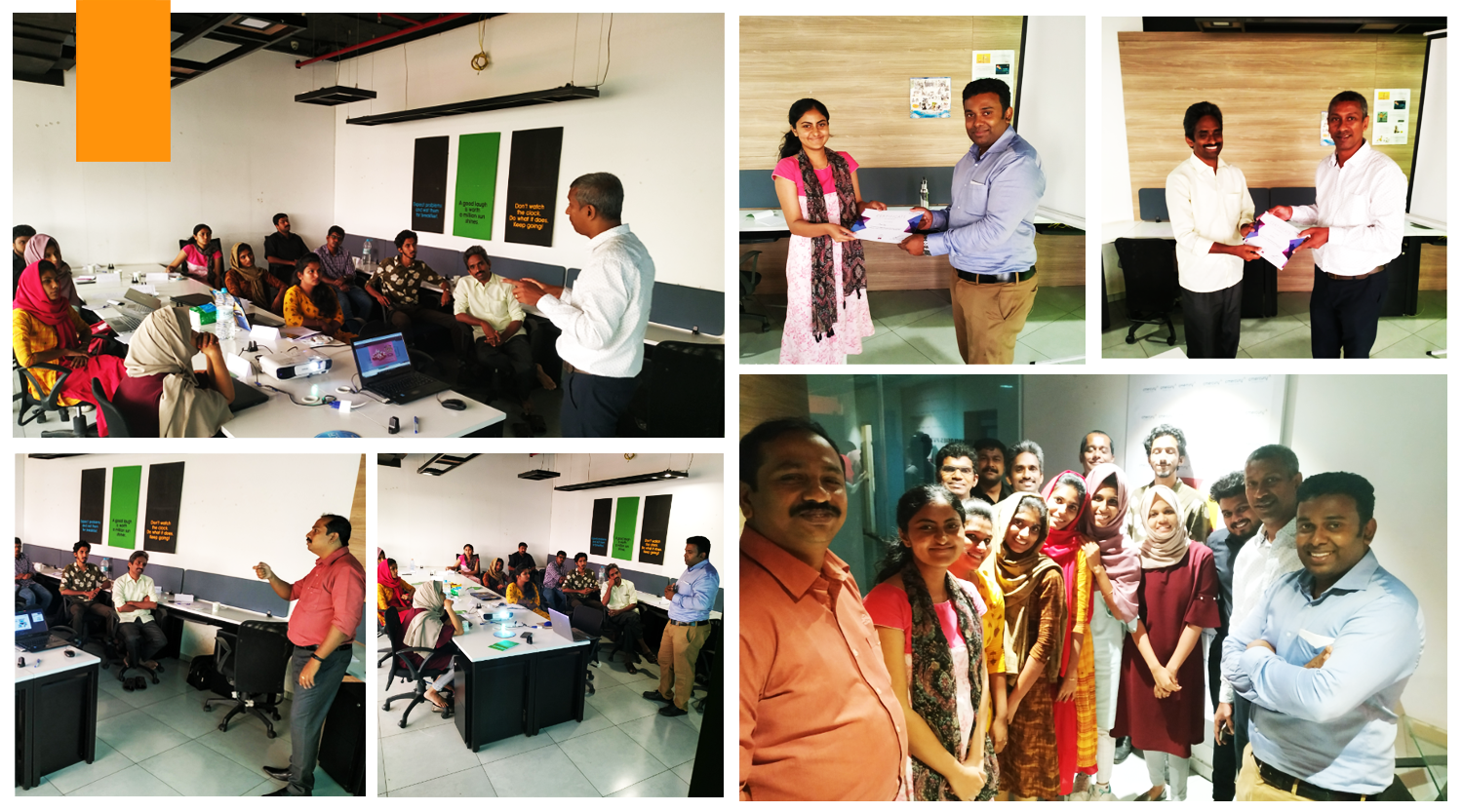 Once again, thank each and everyone who extended their whole-hearted support for making this event a grand success! Looking forward to setting up more such enlightening sessions.
All the best to the workshop participants on their journey to becoming digital marketing ninjas!