8 Best Email Marketing Companies & Agencies in India
Regardless of what a few marketing gurus say, email marketing is NOT dead yet.
To date, 89% of marketers trust email marketing and 64% of small businesses leverage email marketing to reach out to potential customers.
Email marketing has soared high in recent times, and it has become negligible to deny the importance of email marketing.
Best email marketing practices can grow your sales exponentially
Even better?
By choosing the right email marketing solution, you can not only generate more sales but also build a healthy customer relationship.
We have mentioned a list of the best email marketing companies & agencies in India to give you the best visibility in the web space.
Let's take a deep look at some of the meticulously researched best email marketing companies that are all set to drive insane traffic to your website.
Best 8 Email Marketing Companies In India
1. Caspar Global (parent company of cmercury)
Caspar Global is one of the best email marketing companies in India. It offers state-of-the-art email marketing services that can get desired results.
With a decade of experience, Caspar has aced the email marketing game by rendering top-tier brands in engaging with customers, customer acquisition, and retention to generate more sales.
As a full-service email marketing agency, Caspar Global offers an unparalleled customer experience in an array of verticals. It offers the following:
Custom email design & development
Data security
Free email deliverability consulting
Data verification and validation
End-to-end campaign execution
Super responsive customer support
cmercury: its own email marketing tool
cmercury's AI-powered Email Marketing Platform with extended Omnichannel Marketing capabilities helps you with customer acquisitions, retentions and engagements across email, mobile and web channels.
Top-tier companies in India like Clovia, Reliance, Radisson, Titan, and Myntra already trust Caspar Global and cmercury for their email marketing tool and services.
2. Zoronto
Zoronto is the best email marketing agency for DTC brands. It boasts itself as an email marketing agency for ecommerce and promises to convert first-time visitors into customers.
They offer edge-cutting email, messenger, and web marketing services with industry-leading results. Zoronto has already helped 250+ brands to build a loyal customer base and grow their revenue exponentially.
Key features:
A/B testing and email optimization for noticeable results.
Follow clean email etiquette to land the emails in the inbox successfully.
List hygiene features for maintaining high-quality subscribers.
Weekly KPI reports fuel future strategies.
3. Uplers
Uplers is an email marketing service provider that aims at adding value to its customers. It is a simple email marketing tool that helps your email campaigns to reach your subscribers successfully.
It has bagged many prestigious awards and helps in sending emails that have high click-through and open rates.
Additionally, you get to use aesthetic and responsive email templates every month as Uplers code more than 3000 templates every day.
Key Features:
24/5 support from the email operations team.
Possibly offers suitable email marketing services for small businesses.
It also helps you to hire a dedicated resource team to accommodate all your needs.
4. See Response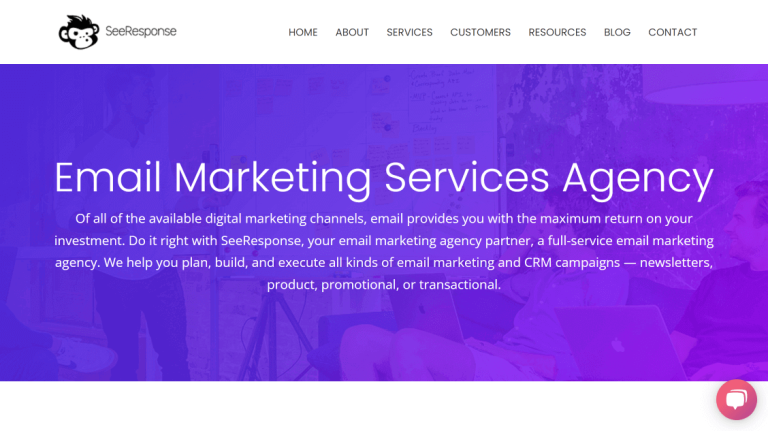 See response has made it to our list of best email marketing companies as it helps to build, plan and execute email marketing campaigns successfully.
The company is known for its best email marketing service as it works collaboratively with your in-house team.
See response manages your end-to-end email campaigns to engage with the audience and grow your revenue.
Key features:
Subscribers can be organized or segmented in multiple ways.
Insightful reporting of email campaigns.
One of the best B2B email marketing agencies.
5. One10 Media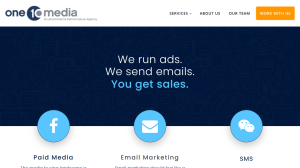 One10 media is known as the best email marketing agency for driving high sales. The ecommerce email marketing agency promises to get instant sales without spending much on traffic.
The email marketing company has more than 20+ years of working experience and helps brands to implement sales-driven email marketing strategies.
Key features:
Powerful criteria-based email strategies based on customers' journeys.
Purchase-driven results are guaranteed.
Suitable for ecommerce stores.
6. Inbox Army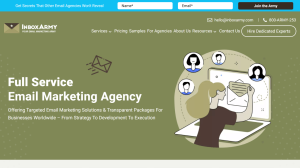 Inbox Army is a full-service email marketing agency offering targeted marketing solutions.
Their core team consists of 120+ email marketers and 40+ certified ESP experts. The team is capable enough to deploy and manage an array of email marketing campaigns.
Trusted global brands like Jockey, Spotify, Airbnb, P&G and many more rely on the email marketing services of Inbox Army.
Key features:
The certified core team puts years of experience on the table.
Targeted and transparent email marketing solutions.
Inbox Army has an in-house team to design, code and deploy email templates.
7. Ryzeo
Ryzeo is the best email marketing agency because of its dedicated services for ecommerce stores.
It converts a considerable portion of the web visitors into buyers and recommends a strategy by analyzing the browsing experience.
Ryzeo is an ecommerce email marketing agency and has become a full-grown email marketing solution for ecommerce stores.
Key features:
Compatible to work with various ecommerce platforms
Customized service for full-fledged automation
Supportive customer service
8. Propel Guru
Propel Guru is an ace when it comes to best email marketing and offers impeccable services. They have pioneered the email marketing niche by working with brands of various sizes and helped them to get an edge over their peers.
Key features:
Offers full-fledged email marketing services.
Select templates from the plethora of options
Has pay-as-you-go pricing
To Sum Up
Just like any other service provider, you need to choose a suitable email marketing company that assists your needs.
All of the aforementioned email marketing companies are the best email marketing companies. Thus it becomes your duty to pick the right agency to exceptionally grow your customer base.
Email marketing can upscale your business to new heights if you pick the appropriate email marketing consultant.
Looking for an email marketing agency? Talk to our expert now.