Step up your business through cutting-edge mobile marketing
Not a single hour passes without our mobile phones. It has redefined the way we connect. For nearly every single need, we turn to our mobiles, almost sub-consciously. It's part of our very organism, like an extended arm. If you are a marketer, and wondering how to make sense of the mobile, to engage your audiences, here is a blog that can help you with some quick tips to make the most out of mobile marketing.
A bright and beautiful Thursday morning. Ryan was jogging back home after an hour-long exercise. Upon reaching home, he sat down relaxing, while checking messages on his mobile. It happened to be his birthday and he was delighted to see birthday wishes from his besties. He decided to offer a treat to his friends in the evening. Well, his birthday was the perfect excuse to hang out with them and spend some wonderful time together.
A movie buff, he thoroughly enjoyed going to films with his friends. He checked for availability of movie tickets on a movie ticket booking app. Yes! Tickets were available for the movie of his choice. He readily posted his movie plan in his friends chat group, and very soon, he got thumbs up and claps from half a dozen of his friends!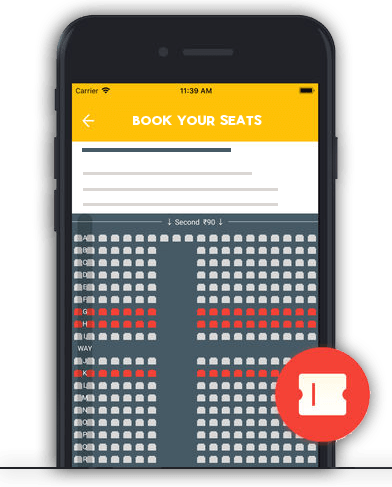 He booked the tickets in no time!
While Ryan was returning home after the movie, he noticed an old man on the street. He seemed weak and looked like he hadn't eaten for days together. Ryan really wanted to help the man in some way. He thought of buying some food for the poor man. But, he couldn't find any shops nearby.
That's when the image of an SMS flashed in his mind. Ryan quickly scanned his phone for an SMS from a food delivery app with a coupon code, that he had received during the day. He swiftly installed the app from the link in the SMS and ordered a meal. Within minutes, a delivery boy on a bike brought a food packet and Ryan gifted it to the poor man.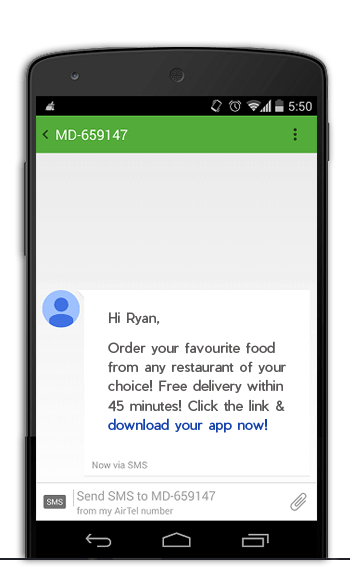 Well, digital marketing to the rescue! Imagine its powerful impact and endless possibilities!
According to Statista, 89% of people are likely to recommend a brand after a positive brand experience on the mobile. Also, according to Comscore 2017, Users spend on average 69% of their media time on smartphones. Over 40% of online transactions are now done on mobile.
India is a promising market for mobile marketing with the country witnessing an exponential growth of mobile adoption in recent years. Competition in this space has aided mobile penetration and prices of devices and internet has come down. In effect, this sweeping change is no longer confined to Tier-1 cities, and as per estimates, by 2022, mobile penetration in India is expected to reach over 90%! The ubiquitousness of this channel demonstrates immense promise and potential for marketers as they would be able to reach audiences hitherto unreachable.
So, how can you leverage the potential of mobile marketing to gain more traffic to your site or app and in turn increase your ROI?
cmercury provides power-packed solutions for all your online marketing needs with its multi-channel capabilities. An ML-based marketing automation suite, cmercury engages customers across all channels; email, mobile, web and social. It has email, SMS, mobile and web push notifications, push notifications, exit-intent pop-up, product recommendations, triggered messaging, social media and web analytics tools, all in one place.
Here is what cMercury can offer you to maximize your sales through mobile marketing.
Attractive app-push notifications: India is now the world's fastest-growing market for mobile apps. The good news is cmercury's

in-app notification

feature helps you reach your app subscribers with regular promotions and updates while they are on your app. You can thus engage the right customer at the right time with the right product recommendations which would in turn positively impact your ROI.
Advanced segmentation: You can easily segment your customers by categorizing them based on their interests and activities from using your app and give suitable recommendations.
Conditional messaging: Automate your SMS sending process according to certain conditions, like openers and non-openers of your SMS campaigns.
Powerful API: With cmercury's highly secure API, you can integrate data from your website or any mobile device at ease.
Personalization: Give a personal touch to your SMS campaigns by sending customized messages to your unique customer.
Customer filtering: Segregate your customers based on their preference to receive SMS alerts which would, in turn, help you maintain your brand equity.
Detailed analytics: Keep track of your SMS campaigns including stats like click counts, CTR, unique opens, delivery, and open rates etc. This will help you strategize future promotions.
After all this has been taken care of, you may still need to invest time and resources in reducing your app uninstalls. You can do this by:
 Re-engaging your customers across other channels like email, social media or web.
 Giving engaging and information-rich content.
 Proper

tracking of app user behavior.

 Measuring customer satisfaction through surveys.
With its multi-channel capabilities, conditional messaging and robust analytics, cmercury is a worthy contender for all your marketing automation needs. It helps you engage and re-engage your customers through different various touch-points.
Ryan had a sense of gratitude and deep satisfaction. He felt that the day was truly meaningful and complete. He enjoyed every bit of his birthday and it was one of his most wonderful birthdays.
The old man's smile and the sparkle in his eyes said it all.
Let's create a difference in someone's life!
And be grateful for the year that has gone by.